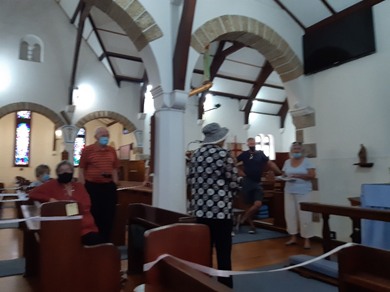 ART & HISTORY TOUR OF ST PETER'S CHURCH IN HERMANUS 16 MARCH 2021
LED BY JUDY GEORGE AND ELIZABETH JONES.
THE PRESENT BUILDING WAS DEDICATED IN 1934, HOWEVER THE ORIGINS DATE BACK TO 1868 WHEN THE FIRST DAUB AND POLE CHURCH AND SCHOOL WERE ON THIS SITE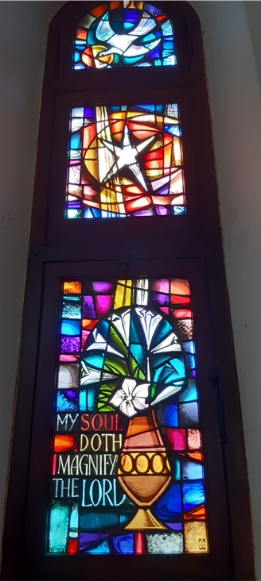 MANY BEAUTIFUL STAIN GLASS WINDOWS
The Dove of Peace is to be seen bringing manna, the Bread of Life from Heaven on High.
The lower window expresses all that we attempt to embrace in a celebration of the life we each have been given, led by the Star of Bethlehem the middle window.
Artist: AR Fisher of the Chapel Studio.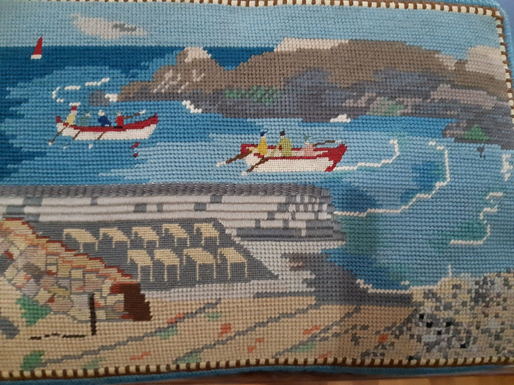 ONE OF MANY TAPESTRY KNEELERS-
This Kneeler depicts The Old Harbour. Other designs including St. Peter's Church, The New Harbour and the Donkeys of Palm Sunday were designed by the Hermanus artist William Green, who owned the Green House Restaurant at de Mond.

BILL DAVIS 1933 - 14.3.2021. A SCULPTOR
AND ARTIST OF NOTE THE MADONNA, IN MEMORY OF HIS WIFE ELLEN.
DAVIS CARVED A CRUCIFIX BEHIND THE LADY CHAPEL ALTER.
ALSO BLACK CHRIST IN ALL SAINTS CHURCH ZWELIHLE
St Peters Church leaflet written by David Morrell, is available in the vestry