Site visit MONDAY 15 May 2017, 9am -1pm.
Thirty members of the History society drove through Hemel en Aarde valley to Caledon, the start of the site visit in preparation to imagining the past and to see the present.
Caledon originally known as Klein Zwarte Berg, an important agricultural area developed because farms were allocated to burgers in mid-17th century. The healing waters originating from the nearby mountains have been an attraction for three centuries We met at the House Museum adjacent to Mill and Church streets where the original town of was laid out in 1813.
The museum represents a late Victorian to Early Edwardian home and exhibits artefacts of the times. It also houses a collection of artworks by Peter Clarke enabling members to see his depiction of Tesselaarsdal in the Fifties.
We had coffee at Gabbionas where Elsabé Brink discussed the career of Peter Clarke and Angela Heslop talked about the history and times of Tesselaarsdal.
Peter Clarke was born in Simonstown in 1929 and died in Ocean View in 2014. Amongst numerous international and national awards, in 2005 he was awarded the Order of Ikamanga (Silver) by then President Thabo Mbeki. In 2011 a major retrospective of Clarke's work, entitled Listening to Distant Thunder was held at the National Gallery in Cape Town.  Clarke was renowned as a graphic artist who worked as a book illustrator and printmaker, as well as in lino cuts, wood cuts and later mixed media using books, leather and glass. He showed a keen interest in art from an early age and during the 1940s received his first formal art classes at the Saint Philips School and the District Six Art Group under John Coplans, a graphic artist. He received his schooling in Simonstown where he was also employed at an early age as a dockworker.  In 1972 his family was forcibly removed and resettled in Ocean View, close to Kommetjie
In 1957 Clarke stayed with friends of his father in Tesselaarsdal for several months. This visit was significant in the development of his art since it was here that he began his work as a full-time artist, sketching and painting the local residents and scenes in the village. During his subsequent career as an artist he often returned to the village. Clarke held his first solo exhibition in Cape Town in 1957 and in 1958 exhibited with the artist Marjorie Wallace, who lived in Onrus for the latter part of her life.
During the 1960s and 1970s – the years of Grand Apartheid – Clarke exhibited extensively and mostly overseas including solo exhibitions. In his work Peter Clarke was influenced by German Expressionism, Japanese wood cuts and twentieth century Mexican artists who depicted their socio-political conditions and the lives of ordinary people.   He commented on local social and political conditions and showing the lives of ordinary people on the Cape Flats and in Tesselaarsdal using bold naturalistic style. In the 1980s Peter Clarke began to exhibit in South Africa again. His 1978 solo exhibition in Cape Town was entitled Our World is a Ghetto. Later exhibitions in Cape Town and Johannesburg followed and in 1992 a retrospective exhibition was held at the Labia Museum in Muizenberg. More solo exhibitions followed in Cape Town, Durban and Johannesburg culminating in the 2011 retrospective exhibition. In 2016 the Frank Joubert art centre was renamed as Peter Clarke situated in Newlands.
After his overseas stays Clarke returned to his home in Ocean View, where he offered art classes to many local young people. One of his students said of him "There is a gentleness, peace and serenity about him.
He works slowly and delicately. His works and actions display his compassion towards his fellowman."
The history of Tesselaarsdal:
Johannes Jacobus Tesselaar 1748-1810, son of a German immigrant was the first land baron after WA van der Stel and was rewarded with 50,000 HA in 2 farms near Hartebeesrivier, south of Caledon for his work in the cavalry.  He owned slaves, had a wagon maker, horses and developed agriculture. Some of his wealth is thought to have come from salvaged goods from the shipwreck of Nicobar near Quoin Point.  Later Hartbeesrivier was named Tesselaarsdal farm 811 in order to avoid confusion by the Post Office as there were two with this name.
Between 1748-1798 rural slaves outnumbered Europeans, with approximately 13-14 slaves living in each house with 4-5 rooms, slave women lived indoors separated from the men who lived in outhouses
When Tesselaar died he bequeathed to his wife Aaltje van der Heide 38 slaves, 150 horses and other movable goods, the couple were childless. His wife continued on the farm for 22 years and died in 1832. She died 2 years before slavery was abolished in the colony, bequeathed land to her slaves and those under the age of 15 were to be educated. She owned 38 slaves, 148 horses, 10 wagons and cattle, sheep and goats. She grew wheat, barley and had 15,000 vines.
Some of the estate was left to a nephew and his wife, however less successful and childless too. Of the 9 people who inherited shares in the farm, one was legal. Others married and farmed, little records kept and land boundaries informal
Reflecting on Life in the Overberg in the 19 century:
Institutions governing White Overberg were marriage, the household and religion. People mostly poor, although hospitable. Education was received through the church and father taught sons basic arithmetic. No health facilities, Khoi koi women acted as midwives.
News of births, marriages, deaths conveyed orally or letter. Ceremonies took place on the farms. Land was informally used, exchanged and transferred between family members- boundaries movable and informal.
Last post office 1900
Transport by donkey cart.
Washing took place in the river
Late C19- C20 Jewish smouses travelled by horse and cart through the region selling sugar, tea, clothes, linen , small goods penknife jewellery. Card playing and dancing were popular.
In early C20 young left and races were mixed
Many descendants are still living in the village of Tesselaarsdal or elsewhere that has a socially and politically unique history untouched by apartheid laws.
1971 Overberg Divisional Council who had collected farm tax attempted to determine rightful owners of the farm, the Supreme Court verdict was that council had no right to make such a decision and the farm remained a mixed area. After 1982 it took 10 years to sort out the ownership issue. However untangling Tesselaar progeny and who owns what land continues to be a challenge. After 1992 piped water and electricity were put into place.
Today Tesselaarsdal it is not actually a village but rather a number  of scattered dwellings, 80 RDP houses, churches, schools, no police station, one bottle store, the bakery has burnt down, no public transport and there is no health facility.
A point of interest that in the Fifties the village was called Peertjies /pear drop as  rugby players received pears as a gift, residents are attempting to revitalise the pear tree.
On arrival in Tesselaarsdal historical points of interest such as the old post office, old dwellings, the river and slave graves were shown.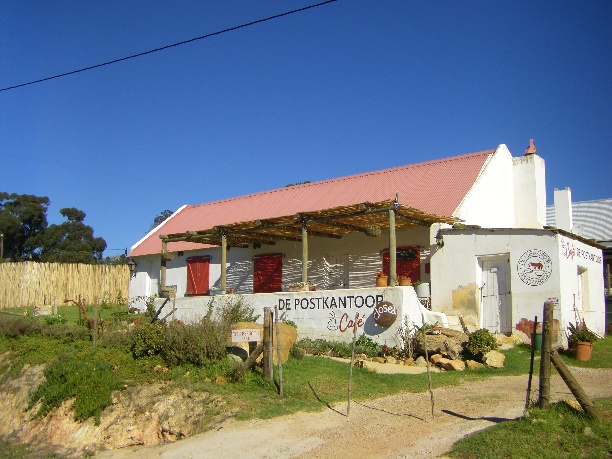 Original Post Office, block right of dwelling
During a short walk members met Alida Small and Oom Jordan who are part of Tessalonika Klub a community organisation who are doing much to revitalise the community, both knew Peter Clarke and answered questions about life in Tesselaarsdal.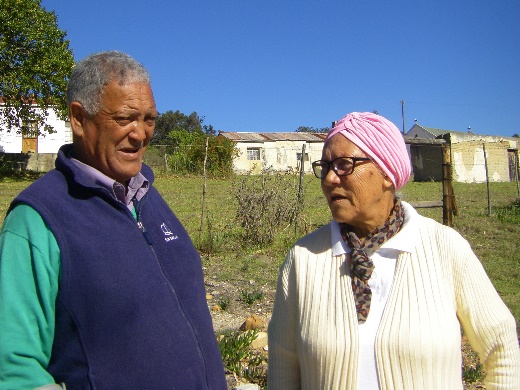 Oom Jordan and Alida in front of house (left) where Peter Clarke stayed

At the end of the visit some of the members met with the club where discussion took place and the History Society awarded the club with a certificate to acknowledge their efforts to assist us learn about their village and unique community.
A Heslop and E Brink 2017
Photos- Basil Brink