Friends, family members and colleagues of the late SJ du Toit gathered at The Book Cottage on her birthday, 15 March, for an evening of remembrance. In her tribute to this well-loved author and member of the local community, Angela Heslop praised SJ du Toit's enormous contribution to the preservation of the history of Hermanus and the Overberg.
"No one knew the moods and personalities of our local history better than SJ," said Angela. "Her source of information was personal interviews and not libraries. She interviewed countless people in their natural settings and rejoiced in their detailed accounts of Overberg life. Her great accomplishment was the ability to convey this enthusiasm through speech and writing."

SJ published 17 books and many more articles in her lifetime, and contributed energetically to the Hermanus History Society (HHS). On the evening, her books Hermanus Stories I,II and III were available at special price. Dr Robin Lee of the HHS said SJ had the wonderful knack to inspire people to tell their stories and referred to her work as "character focussed history".
She als wrote 3 books on bipolar disorder and hosted several workshops for the Depression & Anxiety Group. "SJ believed that a person is not diminished by mental issues, and by talking and writing  about her own struggles she provided generous and much-needed support to sufferers," said Angela. "She was admired by her friends and colleagues, and she will always hold a special place in our hearts."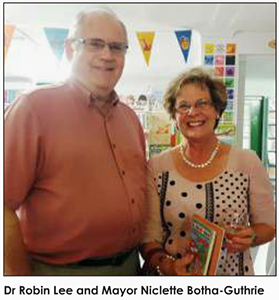 The Book Cottage offers regular book launches and literary events at their premises in Long Street, Hermanus. If you'd like to be informed of these events contact them at 028 313 0834 or bookcottage@whalemail.co.za  to be added to their mailing list. Also be sure not to miss The Book Cottage's annual book sale which is on at the moment!
Credit: The Hermanus News, 22 March 2012.