There is something rather poignant about relaxing on a bench at one of the look-out points and taking in the views while knowing that that particular spot had a special significance for an individual who has now departed from this world.
This practice of endowing a bench in memory of a loved one goes back over 100 years. An annual fee is supposed to be paid to the Municipality, but some families leave Hermanus and many of the donors are in arrears. A further complication is that in recent times the brass plaques on several benches have been stolen or damaged.
Late last year the Cliff Path Management Group mobilised a team of volunteers to document every bench along the path and report on its state of repair or disrepair. The results indicate that there are now at least 160 benches along the 12 km long Cliff Path stretching from the New Harbour to Grotto Beach. While the stories of many of those commemorated remain a mystery, I have been able to find information that brings some interesting facts to light.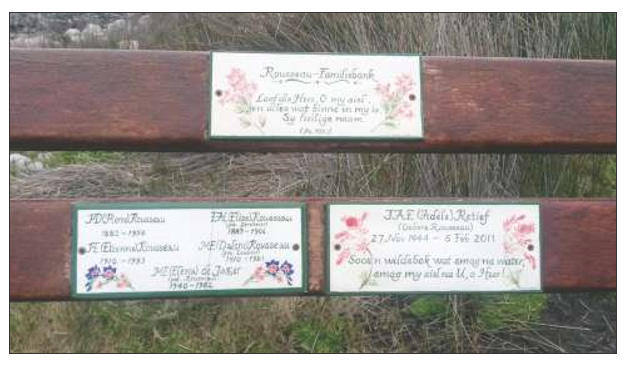 Retired farmer with a VC
My first investigation regards a commemorative bench that is 'virtual' in the sense that physically it no longer exists, but we do know that the person remembered once existed.
The bench was dedicated to the memory of William Henry Hewitt VC (1894-1966) who was born in Sussex, England and immediately after school  immigrated to South Africa. He became a naturalised South African citizen in 1910. In 1915 he enlisted in the South African army and was sent to France.
Within a year, he was wounded and hospitalised in England, where he met his wife-to-be, who was nursing there. Hewitt returned to the Front and in the next engagement he captured an enemy machine-gun emplacement, single-handedly. Hewitt's Victoria Cross citation states that his actions "caused the occupants to dislodge, and they were successfully and speedily dealt with by the remainder of the section". He received his award early in 1918 and, not long after, returned to South Africa with the rank of 2nd Lieutenant.
Hewitt farmed in Natal with his wife until 1925 and then managed a large coffee estate in Kenya until 1950. He retired to Hermanus and lived in Voëlklip for 11 years. In letters to his family he expressed his love for walking the Cliff Path. There was a particular point he liked most and we have been able to work out that it lies between Sieverspunt and Klein Eiland and would have been bench No. 86.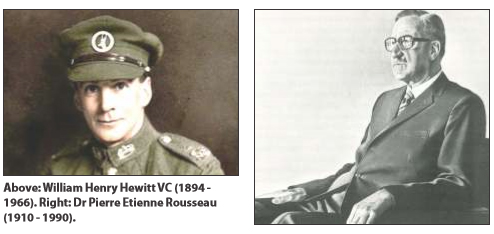 Unfortunately, the family in England had not kept up payments to the Municipality and in due course the bench was allocated to another family. This was the Rousseau family whose story follows.
Hewitt returned to England at the very end of his life, but in his will asked to be cremated and his ashes consigned to the ocean at the point where his bench once stood. This was done in 1966.
Highly influential scientist and businessman
The new bench at location number 86 is dedicated to several members of one family – the Rousseaus. The oldest member commemorated is Dr P (Pierre) Etienne Rousseau (1910-1990), who was in the forefront of South African industrial development for 50 years in the middle of the 20th century.
Etienne Rosseau came from a distinguished Huguenot family and was born in Worcester. In 1914 the family moved to Laingsburg, where he showed the first signs of his lifelong interest in the chemistry of coal and petroleum.
In 1926 Etienne enrolled as a chemistry student at the University of Stellenbosch and proceeded rapidly to his BSc and MSc. In 1933, he decided against proceeding to a PhD degree and rather opted to qualify as a Fellow of the British Institution of Chemical Engineers. Not only was he successful in this, but he won the William McNab Medal for the most outstanding entrant of his year.
Returning to South Africa he worked for a few different firms, including Anglovaal. Under his guidance Sasol was developed during the 1950s and started operations in 1960, with Rousseau as Managing Director. He also took great pleasure in developing the firm Marine Products which had its headquarters in Gansbaai.
The family had a house in Voëlklip for many years and after retirement he bought a tract of land in Fernkloof as a family gathering place. In 1990, his grandson Etienne wrote: "Whenever I think of Grandpa the first thing I remember is how we always walked along the beach or in the mountains in Hermanus. As we walked Grandpa told us so many interesting stories." The entire family undertook a ritual walk each year from De Kelders to the Klein River Estuary along the beach.
Conclusion I cannot claim that every bench has as rich a story behind it. Probably, behind many other benches there is only a small story or none at all. But it is comforting to know, as we walk the paths and beaches of Hermanus, that famous people once walked them before us.
The Hermanus History Society would welcome any information about the benches along the Cliff Path. Contact Robin Lee at  robinlee@hermanus.co.za