ST LUKE'S GREEK ORTHODOX CHURCH. 7 Riverside Lane, Onrus
(PLEASE NOTE – Not open to public)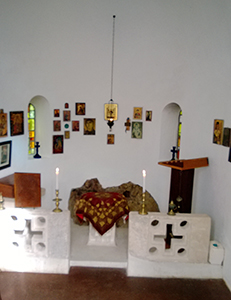 On 22 October 2013 the Hermanus History Society visited St Luke's Greek Orthodox Chapel in Onrus. Although not old, the St Luke's Greek Orthodox Chapel is unique as it is the most southern and smallest Greek chapel in southern Africa which is also in private ownership. It was  constructed by two artists, the late Maxie Steytler and Tertia Knaap in 1983. They named the chapel after Saint Luke, the patron saint of artists and healers.
The chapel, a integral part of the heritage of the Overstrand, was consecrated by the Greek Orthodox Church of South Africa, and is an authentic representation of Greek ecclesiastical architecture as found on the Greek islands. Over the years it has become a place which has enduring value in the lives of local people and visitors to Hermanus as a chapel which regularly used to celebrate weddings, christenings and funerals. In 1998 the former State President FW de Klerk also celebrated his second marriage in the chapel. The chapel which houses a number of religious art works has also become a local tourist attraction to be viewed by appointment only.
In addition, annually in October the Greek Orthodox Church conducts a service in honour of Saint Luke in the chapel.
The tour of the chapel was conducted by the historian, Elsabe Brink, a niece of the late Maxie Steytler.  On view were the church doors, the stone rails and church furniture inside the chapel which was crafted by Tertia Knaap. She has a Masters Degree in Fine Arts and is an artist and sculptor. The five stained glass windows were made and donated by the Pretoria artist, Leo Theron. Over the years numerous visitors to the chapel had donated icons of Saint Luke and other saints which are on view in the chapel.
Elsabe Brink