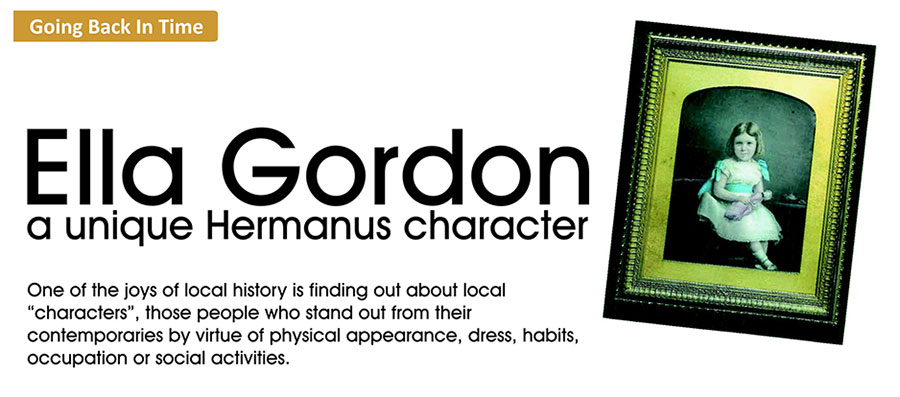 One of the joys of local history is finding out about local "characters", who stand out from their contemporaries by virtue of physical appearance, dress, habits, occupation or social activities. Hermanus has several "characters", one of the most interesting of whom is a lady known at the time as "Ella Gordon". However, her full name was Isabella Gordon Dove Colston and she lived from 1873 to 1958, residing in the Hemel-en-Aarde Valley, Karwyderskraal and Voelklip from about 1902 till her death in 1958.
She seemed to other residents to be a noteworthy "character" as she challenged many of the social practices of her time. She was unmarried and (mostly) lived a solitary life. She farmed successfully without male assistance or supervision and did much manual labour herself. She was incredibly strong in her youth, easily lifting 90kg bags of horse feed unassisted. Her hair was cut short, she wore men's clothing and smoked a long pipe. She was a strict vegetarian all her life.
When she arrived in the area in 1902 she bought a portion of the farm Braemar in the Hemel-en-Aarde Valley and built a house, but moved to Karwyderskraal in 1907 to get away from the taunts and jeers directed at her by passers-by on the road in front of Braemar. Her farm is now part of the Hamilton Russell Estate.
How did such a character come to be in Hermanus and environs in the early 20th century? Isabella Gordon Dove Colston was born in Scotland in 1873 to middle class parents. Her mother died when she was 7 years old , she was educated at home and when she was 18 years old she studied music and received private tuition at university level in drama, English, French and history and other subjects. Sometime between 1887-1893 Ella had music and acting training and became very involved in the popular variety shows of the time.
No really clear picture exists of Ella as an adult and, indeed, the best is the one shown here of her as a Victorian child. Little did this small girl know that she would travel thousands of kilometres to a tiny town in what was then a colony of the British Empire and live there while South Africa became an independent republic and entered on the tumultuous years of apartheid.
After her father's death in 1897 Ella who was fluent in French, travelled to France, with a theatre group and circus, and it was here she became involved in training horses.
In about 1900 she arrived in South Africa and performed in the Tivoli Theatre in Cape Town. It seems that this period enabled her to play many roles whether acting or being part of a circus. However the entertainment industry suffered from the onset of the Anglo Boer War and Ella had to seek other occupations. It is thought that Ella may have learnt about the Hermanus area when she met and became a friend of Clara Marie Markgraaff in Cape Town. Clara was a music teacher and through her nephew Reverend Schaberg, a Moravian minister, had connections with Genadendal. Ella moved to the Hermanus area in about 1902, buying a portion of Braemar, as indicated.
After her five years at Braemar, Ella moved to Karwyderskraal in 1907.
She personally made the bricks for and then built her own house in a very individualistic style, painted frescoes on the walls and made the furniture. For a time Clara Markgraaff lived on the farm with her, and did the cooking and housework, which Ella never liked. Later Clara moved to Genadendal where she died in 1940 and where she is buried.
Ella organised concerts and plays with the children of the Karwyderskraal area, some of which were also performed at the Caledon Amateur Dramatic Society. She was a disciplinarian, though kind, and expected everyone on the farm to attend Sunday church services. She prohibited wine on the farm – no one was even allowed to plant any vines. She built a school, a church, stables and more dwellings with and for her labourers around her own house and created a healthy community life on her farm. Her great love was for her horses and dogs. She taught the horses many tricks. They could step out in time to music and Ella rode and trained her horses every day. Her white horse, Boysums could do many tricks, dance to music and his headstone in the horse cemetery reads: Boysums, the Wonder Horse. We shall meet to part no more. R.I.P. When the horses died they were given a specially devised, formal funeral and then buried in her specially constructed horse-graveyard. Every horse had a tombstone. Her horse graveyard is the only one of its kind in South Africa.
Ella also built with her own hands a holiday house in Voelklip, shared with Clara, where they spent summer holidays.
Ella died in 1958 at the age of 85 and as requested in her will is buried next to her dog Woppy in the small Karwyderskraal graveyard next to the horses' graveyard. Her will was carefully prepared and the chief beneficiary of the will was the Moravian Church of South Africa, to which she left her farm with certain conditions regarding her animals and the work people of the farm community.
Today there is little of her legacy that remains. Her house at Karwyderskraal still stands but in a dilapidated condition, and her Voelklip house can just be seen under the various renovations that have taken place. However, she was certainly noticed as a "character" in her time and did appear to make a difference for a small community of coloured people on and around her farm. Ella was also a survivor and had an unusual capacity to change and adapt to circumstances shaping her life and those of others. We can speculate that her legacy was school education of a small community, teaching people farming skills, forbidding alcohol intake (perhaps resulting in reduced foetal alcohol syndrome) and a role model on care of dogs and horses. She also placed an emphasis on spiritual values although she did not espouse a particular religion. She will certainly remain one of the "characters" of Hermanus history.
This is the third in a series of articles about Hermanus history, produced by the Hermanus History Society and written by Angela Heslop and Robin Lee. If you are interested in the Hermanus History Society please contact Robin Lee on (028) 312 4072 or robinlee@hermanus.co.za