Hermanus History Society Library.
The library holdings comprise donations from authors and editors of material, donations from members, and purchases made by the Committee relating to the work of the Society.
A list of the books and other documents presently in the library can be made available and may be loaned by members
The Chairperson, Angela Heslop, has agreed to act as Librarian and store the collection at her home. For the remainder of this year she will be available to issue and receive material on Monday mornings, provided you contact her first. Her contact details are: landline: 028 312 1663; cell: 072 609 8655;
email:
aheslop@hermanus.co.za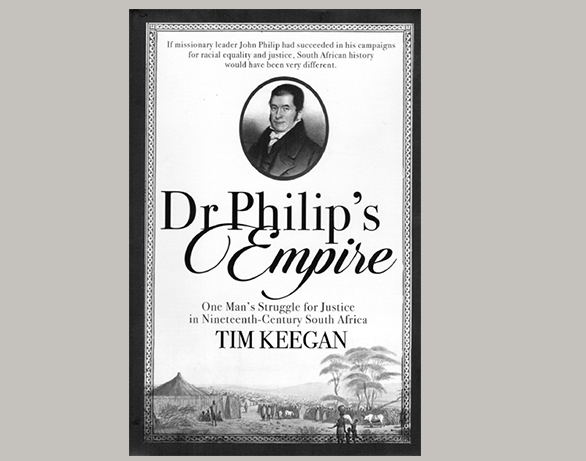 Dr Phillip's Empire
One Man's Struggle for Justice in Nineteenth-Century South Africa
'For all those who have been wondering about the next book from one of South Africa's most elegant historical writers here it is.
With Dr Philip's Empire, Tim Keegan has done us a great favour. This exceptionally readable and deeply illuminating story of the fascinating and complex British missionary Dr. Philip is far more than a freshly opened window on the history of the colonial enterprise. It is, in fact, a tantalising microcosm- even parable - for the early liberal and humanitarian aspirations of empire and the twists and turns of their fall into decay and delusion.
A timely and important book, its cool and judicious historical perspective may also help to educate the present-minded ideological puritans fro whom the colonial past is nothing other than the evil Empire of Cecil John Rhodes.' Bill Nasson
Dr James Barry
A Woman Ahead of Her Time
Dr James Barry was many things in his life: Inspector General of Hospitals, army surgeon duellist, reformer, ladykiller, eccentric. He performed the first successful caesarean in the British Empire, outraged the military establishment, and gave Florence Nightingale a dressing down at Scutari. At home he was surrounded by a menagerie of animals, including a cat, a goat, a parrot and a terrier. But most astonishingly, long ago in Cork, Ireland he had been a young girl and a mother.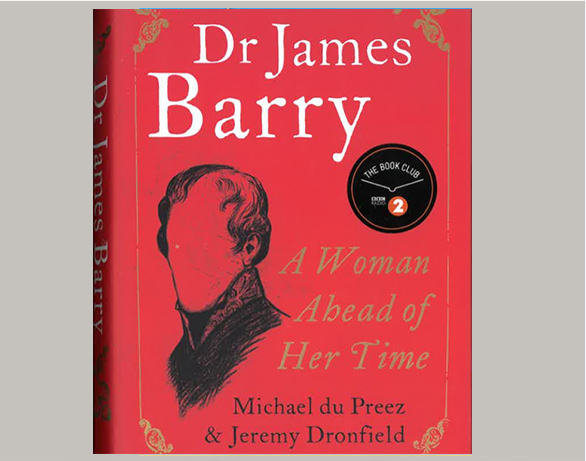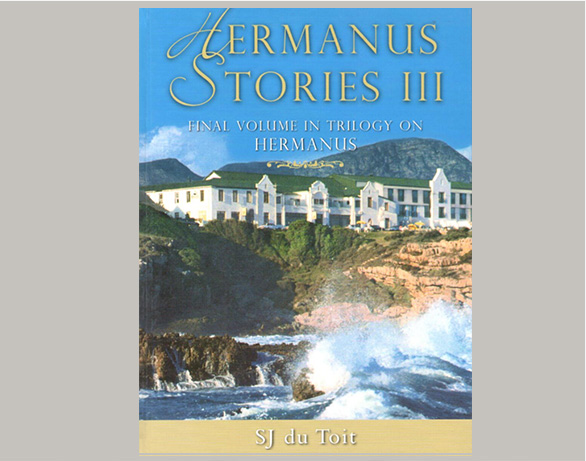 Hermanus Stories III
SJ DU TOIT HAS DONE IT AGAIN
This is her third title in a series of reminiscences of Hermanus.
Like her previous books, Hermanus Stories iii tells us more of the people and events that make up life in the ever-changing seaside resort Hermanus. Meet the oldcharacters of the town - Micheal Clark, Glynis van Rooyen, Jan and Sandra Groenewald, Eugene le Roux, Chrissie van Wyk and many many more.
If you ever wondered about the origin of well-known landmarks in our area like De Mond, Habonim, the magnetic observatory and the Spookhuis - you will find interesting tit-bits and anecdotes of all of them here.
Those with longer memories will find added joy in reading about the days of the first telephone exchange and Heinie's Steakhouse. Written in down-to-earth style, this is a volume that will be cherished by everybody who loves Hermanus.
Hawston Tussen Berg en See
Dit is vir ons 'n groot voorreg en eer om hierdie boek op te dra aan ons oues van dae, die wat reeds oorlede is en hulle wat nog in die lewe is. Sonder hulle nagedagtenis en stories sou ons nie die boek kon saamstel nie. Ons bring hulde aan hulle en vereer hulle vir al die herinneringe en kennis wat hulle vir ons nagelaat het.
Through God's Grace we have accomplished this goal and we hope that it will be a blessing to the lives who read it.
Die vroeere geskiedenis van Hawston is nie gedokumenteer nie. Talle historiese dokumente is vernietig of het verlore geraak. Daar bestaan enkele argivale bronne, notules van verskeie instansies asook koerante waaruit ons inligting kon abstraheer. Ons het in die besonder staatgemaak op die mondelinge oorlewing van die inwoners van Hawston. Soms oorvleuel die verhale mekaar waar verskillende persone dieselfde gebeure vertel het. Ons is nie bekommerd oor die herhalingsfaktor nie; inteendeel die verskillende monde onderskraag besondere vertellings.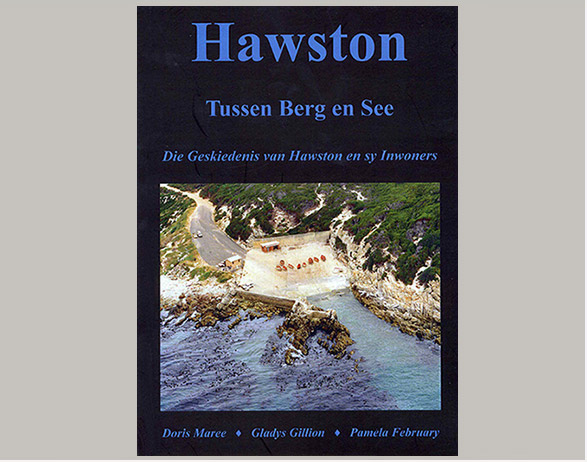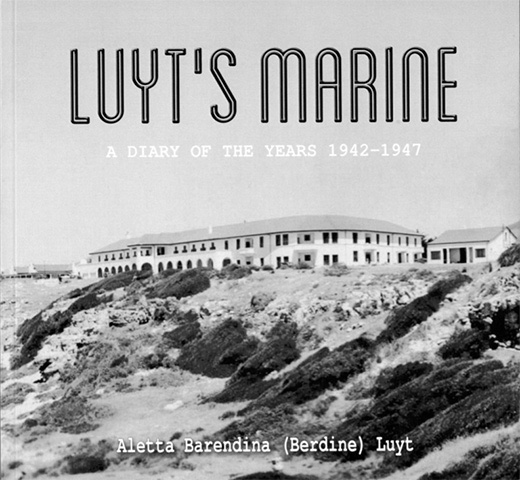 This is the diary of an active participant on the 'home front' of World War II. It covers the war years in Hermanus, a town in which airmen, sailors and soldiers came in thousands. many were on leave from local military duties, or on shore leave from troopships sailin around the Cape. Others were recuperating from injuries sustained in combat. Whatever their status, they were welcom at Luyt's Marine Hotel, where the owner Joey van Rhyn Luyt and her daughters, berdine Paddy and Connie took care of them.
The Luyt's believe that their wartime duty was to offer enjoyable times to all, knowing that most would be returning to the war front or had loved ones at risk. This book is a delightful indight into hotel life of the time, against a backdrop of global conflict. Scenes of domestic comedy alternate with accounts of how survivors of torpoed ships received the generous support of residents. Berdine Luyt's sharp eye rests humorously on a crisis in water supply, riotous parties at the marine and a local political meeting. "Luyt's Marine" will charm and involve you in events and characters that are clearly of the 1940's, but also recognisable today.
In those Days - The Story of Joey van Rhyn Luyt
In 1915 Hermanus , on the south western coast of South Africa, was an insignificant fishing village. By 1947 it was one of the pre-eminent sea-side holiday resorts in the country, and well known abroad. There were several reasons for this: a healthy climate; unequalled sea-angling; beautiful natural countryside and steadily improving road access.
The town was also blessed with entrepeneurial citizens, who saw the value of eco-tourism long before this became a catch phrase. At one stage in the 1930s Hermanus boasted 13 hotels and a large number of guest houses. Pre-eminent among the hoteliers were P John Luyt and his wife, Joey van Rhyn Luyt. Joey left a written memoir, detailing, but by no means limited to,her role at the Marine Hotel. She also describes P John's energetic publicising of Hermanus and his key role in local affairs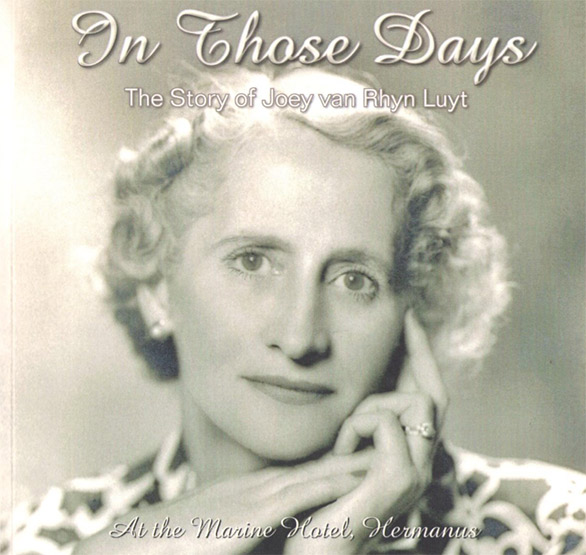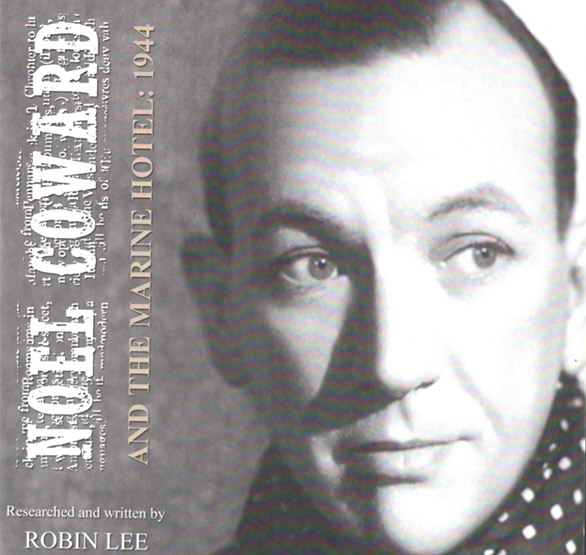 Noel Coward and the Marine Hotel:1944
Purely local history can be parochial and even self-regarding. The day to day doings of ordinary citizens seldom inpsire interest, much less enthusiasm, in toda's audiences. However, that danger is much reduced in the case of the Overstrand in general, and Hermanus in particular.
Almost since its first settlent the region has attracted visitors and permanent residents (usually retired) who command the attention of a wider audience. Based on their stay in Hermanus, the lives of these 'movers and shakers' outside Hermanus can be followed. In this case a world famous entertainer opens the door to contact with a Prime Minister, members of Parliament, famous actors, and a member of a Royal family.
In my experience, if you research a little for the 'back story' behind the person in Hermanus or the Overstrand, you will be amazed where the story ,may take you
The taking of the slaver Meermin 1766
In February 1766 while the slaver Meermin was returning to Cape Town from Madagascar with 140 slaves, some male slaves got a hold of a number of their native spears, killed most of the officers and crew on deck and trapped the remainder, some of them badly wounded, in a cabin in the stern of the ship. The fight raged for days, while the ship was carried helplessly along by wind, currents and tide it ran aground near Cape Agulhas.
The first complete account of the violent uprising on the hooker Meermin, entirely based on archival records, describes a desperate struggle on the open sea for freedom and survival. the dramatic tale of courage, bloodshed, endurance,death, deceit and betrayal, also sheds light on the economic and social conditions at the Cape at the time. Details are given about the origins of Cape slaves, why and under what circumstances they became slaves, with what were they bought, how were they transported, treated and employed by the Cape government, and how they were punished when they transgressed its laws.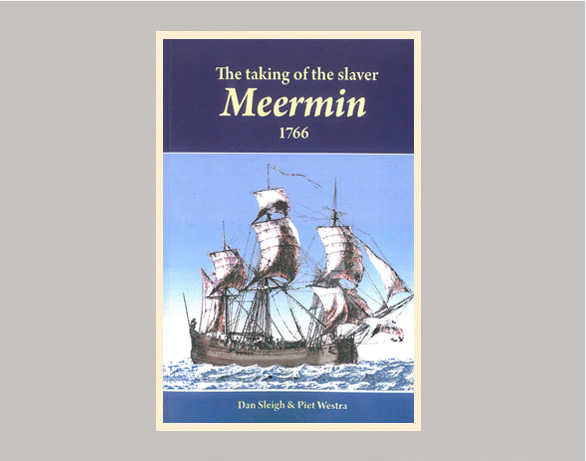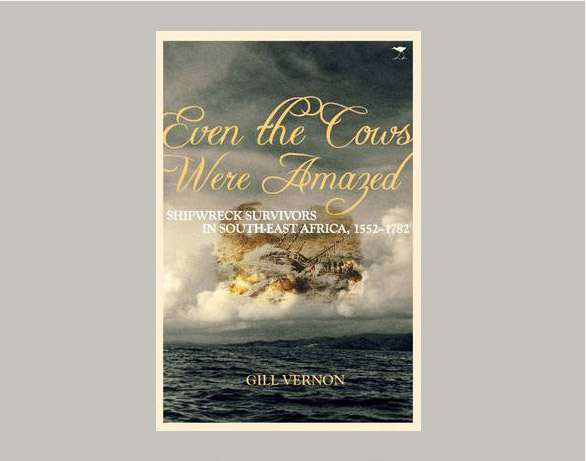 Even the Cows were Amazed
Between the 16th and 18th centuries several European ships involved in trade with the East came to grief on the south-east African coast, the most famous being the Grosvenor. In almost all cases there were survivors, both passengers and crew, whose stories were later written down.
And what stories these are. Many parties undertook epic journeys on foot from the wreck site to reach places where they might be rescued. These journeys involved great feats of endurance for the survivors, who tramped by foot for hundreds of kilometers through unknown territory inhabited by people who European prejudices of the day regarded as hostile 'savages'. Even more remarkably, a few parties constructed their own small ships from the wreckage and sailed off to seek rescue.
The Cape Odyssey 105 - Wrecked at the Cape Part 2
South Africa has an extremely rich and internationally significant underwater cultural heritage. Since 1488 the Southern tip of Africa has occupied a pivotal position in global economic and maritime affairs, and tens of thousands of vessels from a host of countries have navigated this coast.
Some of the worst sea conditions anywhere in the world, combined with human error, inadequate anchorages and the poor physical condition of many of the vessels and their crews by the time they reached South African waters, have left South Africa with a legacy of more than 2400 known shipwrecks.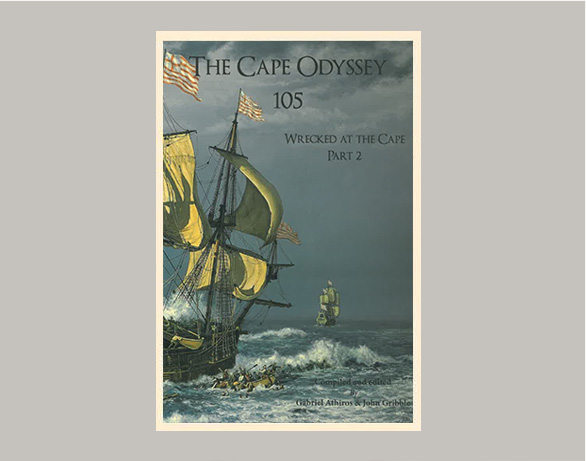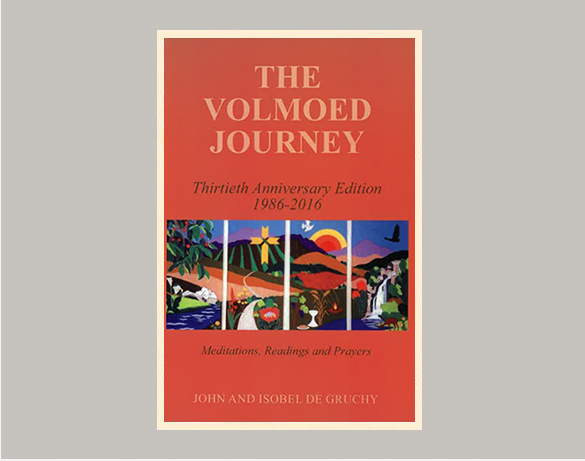 The Volmoed Journey
In celebration of the thirtieth anniversary of the Volmoed Community
The first edition of the Volmoed Journey was published in 2006 to celebrate the twentieth anniversary of the founding of the Volmoed Community.The last of the ten thousand copies printed at that time was sold at the beginning of 2016 just as we began our year long celebration of the thirtieth anniversary of this remarkable community located in this remarkable place. A place we believe God has set apartfor his ministry of healing and reconciliation. We were relative newcomers to Volmoed, having arrived in 2003, so our own journey as part of the community had only just begun. Now thirteen years later, we look back with great joy and thankfulness for being part of the ongoing story, even as we anticipate the next phase in Volmoed's journey.
The Historical Overberg
Traces of the Past in South Africa's Southernmost Region
Situated between the Hottentots Holland Mountains and the Breede River, the Overberg is a fertile agricultural region and a popular holiday destination for tourists and nature lovers who delight in the beauty of its mountainous landscape, abundant plant species and long sandy beaches. This area also has a rich history going back thousands of years, when the indigenous Khoi people originally thrived there, and when the first European settlers left their own indelible imprint on the culture, architecture and character of the region. The Overberg has been a home or point of interest for explorers, innovators, artists and writers, for figures as varied as Bartolomeu Dias, Sir David de Villiers Graaf, Uys krige and Audrey Blignaut. Some of South Africa's oldest Towns, houses and missionary stations can be found here, and its treacherous coastline has been the cause of hundreds of shipwrecks for centuries.